Compact, professional two-disc fertiliser spreader
AXIS M 30.2 offers precise, powerful spreading technology for demanding farmers. With its unique performance potential and innovative detail solutions, it sets new standards in elegant operating comfort, high spreading precision and economic efficiency.
Model variants AXIS M 30.2
| | |
| --- | --- |
| AXIS M 30.2 K | with hydraulic slider actuators, two single-acting cylinders |
| AXIS M 30.2 D | with double-acting hydraulic slide actuators |
| AXIS M 30.2 R | Hydraulic single gate valve actuation with two single-acting cylinders that close hydraulically and open by spring pressure. With a two-way valve on the hoses, both gate valves can be actuated by only one tractor control unit. To actuate one gate valve individually, simply close one hydraulic hose via the two-way valve. (1 ew tractor control valves required) |
| AXIS M 30.2 C | with electric metering slides with E-Click |
| AXIS M 30.2 Q | with QUANTRON-A speed-dependent, electronic fertiliser metering |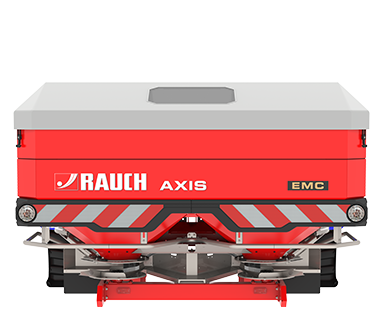 Accessories
Hopper cover and AP drive
The prefect protection against moisture and dirt from the tyres.
All AXIS hopper covers open over the entire filling area thanks to the high-quality "convertible-like folding" feature.

So filling can carry on, trouble-free, as usual. An opening mechanism with a long lever arm makes it easy to open and close the hopper cover.
Even with a hopper cover, the fill level can still be checked quickly and easily from the tractor cab via the window areas in the cover.
Option:

On request, the hopper cover can be operated remotely from the cab via the electric AP-Drive (only with AXIS of the .2 series with Quantron-A or ISOBUS).
Parking rollers ASR 25
Enjoy more flexibility when it comes to spreader attachments and dismantling with the large ASR 25 parking rollers. A quick-release coupling system allows the rollers to be removed at any time or mounted in transport position.
Access ladder AS-XL-25
The collapsible ladder enables easy access to the container. Only for AXIS 30.2 / 50.2 in conjunction with wide XL attachments.
AXIS 50.2 generally comes with a ladder (left) as standard.
Bei AXIS 50.2 ist eine Aufstiegsleiter (links) im Serienumfang enthalten.
AXIS lighting with warning signs
High-quality LED headlights, integrated in the warning signs, ensure more safety on the road.
Front lighting
High-quality LED headlights, integrated in the warning signs, provide a good view of the tractor.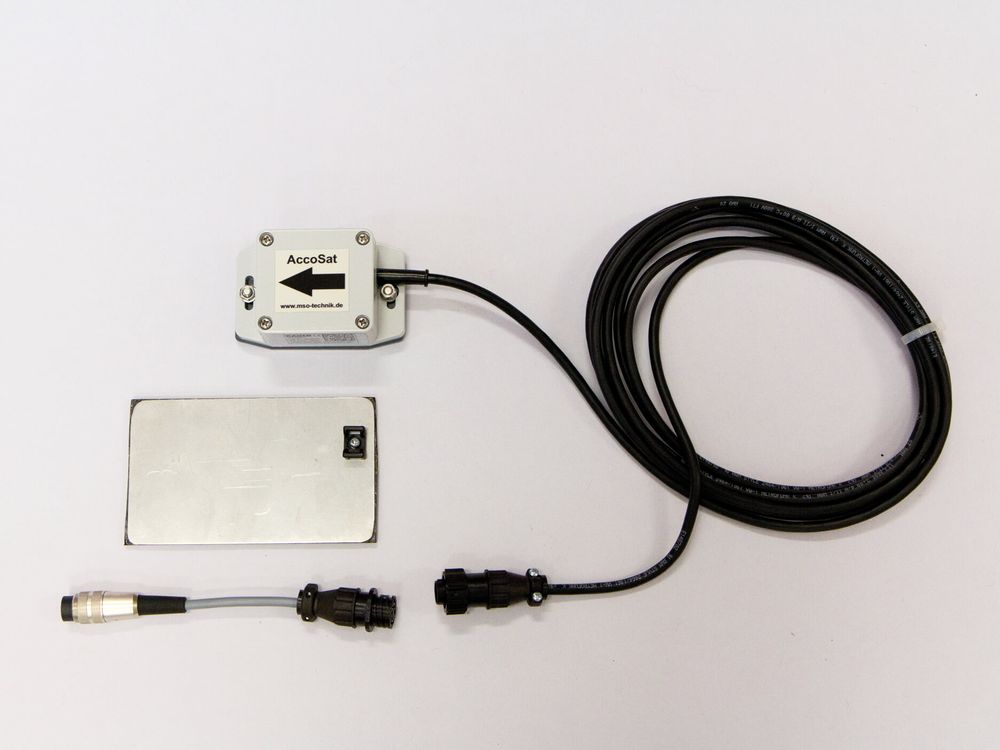 GPS speed sensor
In order to be able to regulate spreading according to the driving speed, the QUANTRON-A and QUANTRON-K2 scatter computers, and the ISOBUS display all require a speed signal. This usually comes via the 7-pin signal socket or the ISOBUS from the tractor unit. If the tractor itself is not equipped with this signal, either a wheel sensor must be retrofitted or you can use this GPS speed sensor.
A GPS signal in combination with an acceleration sensor generates a high-precision speed signal. This is especially recommended if the spreader is used in combination with several tractors or is also shared by different companies.
Another great advantage of this is that the slip of the tractor tyres in wet conditions or slopes does not matter and does not adversely affect the spreading result.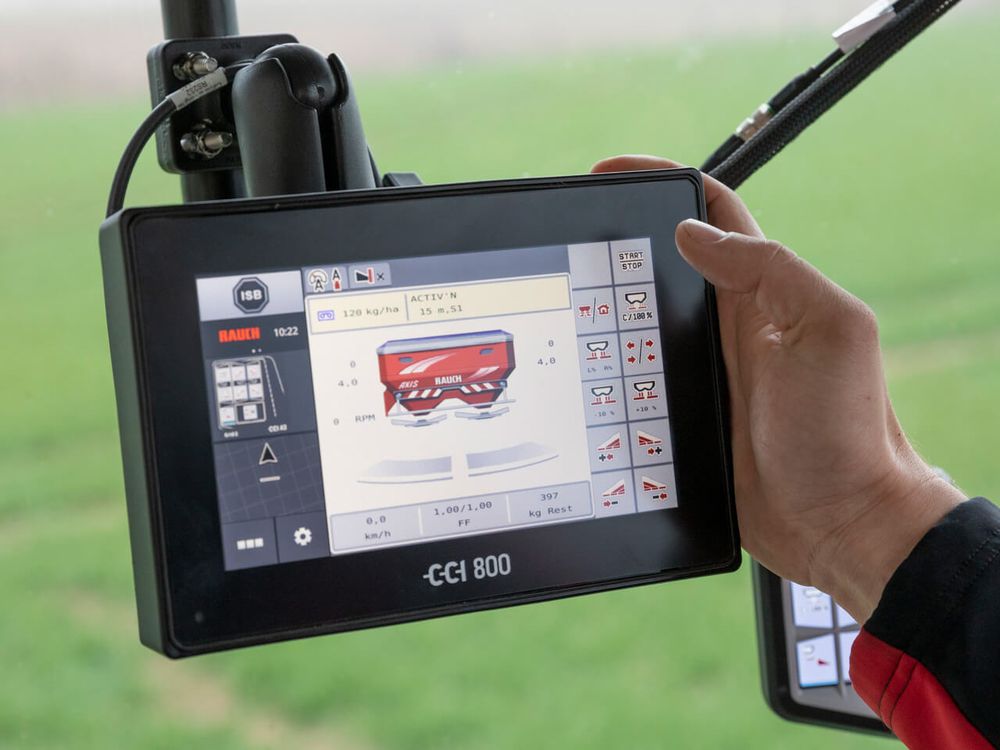 GPS control with CCI 800
In order to use the QUANTRON-A to automatically switch part-width sections and headlands via GPS or to scatter application maps, the QUANTRON-A is connected to the CCI.800 terminal via a serial interface.
In this case, the CCI.800 is not used as an ISOBUS terminal, but as a GPS terminal that, in combination with a GPS receiver, switches part-width sections via SectionControl or processes application maps via the TaskController.
Limited border spreading GSE AXIS/AXENT
The GSE 30 and GSE 60 enable sharp-edged border spreading on the left and right side directly on the field boundary with half-side spreading. The distance to the border can be varied between 0 to 3 m. GSE 30 is the thrower shield for AXIS M 20.2 / 30.2. GSE 60 is suitable for use with AXIS M 50.2 and AXENT.
Optionally, GSE 30/60 can be remotely controlled hydraulically
using the FHD 30-60 remote control via a double acting tractor control valve.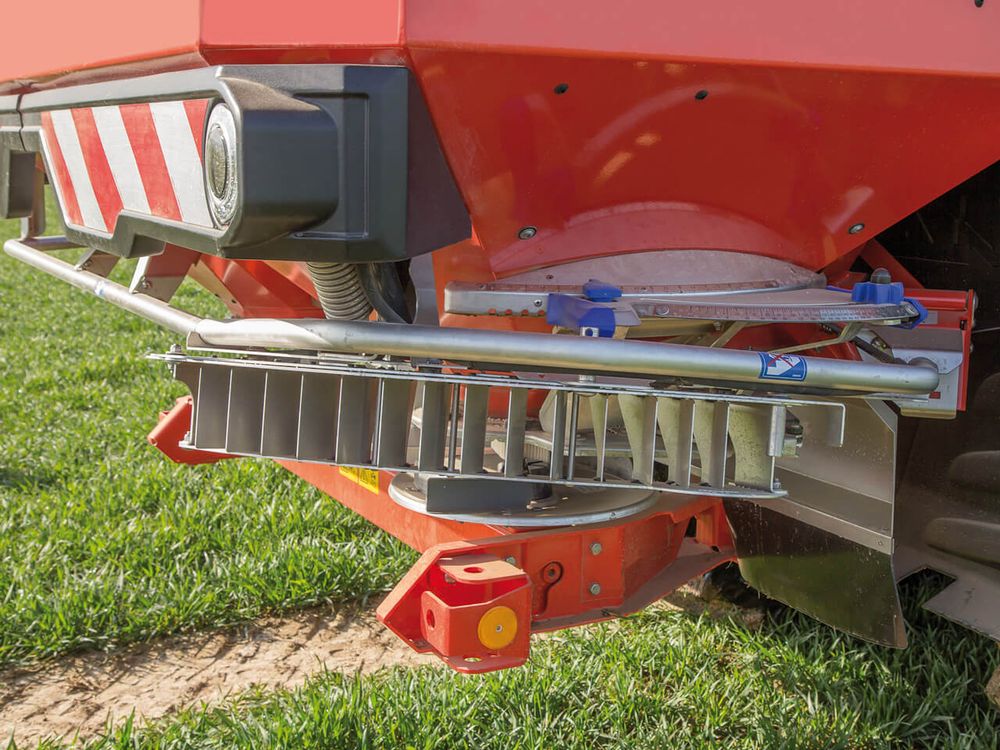 Limited border spreading Telimat AXIS
TELIMAT T25/T50
TELIMAT enables precise, hydraulically remote-controlled edge and border spreading right from the first tracks. The double-adjustable spreading compartments redirect the fertiliser to fulfil the requirements of the European environmental standard.
Without the need for stopping and dismounting, the Telimat T25 swings up and down on the AXIS 20 and 30 via a single-acting tractor control valve. AXIS M 50.2 W ISOBUS is equipped with a TELIMAT T50 remote control as standard.
Level sensors | AXIS
For each AXIS with electronics one level sensor can be optionally fitted to the filling sieve per container side. These sensors give off a warning in the display should the level on the respective side get too low. This accessory is particularly interesting for machines without remaining quantity scale or for spreaders with section control, which work in a very one-sided manner, and it also helps to avoid flaws.
Practical test set
More safety when spreading
RAUCH PPS 5 Practical test set permits cross-distribution to be checked and corrected quickly and easily in the field. This provides even more reliability and accuracy during spreading, particularly with fertilisers of lower quality, problematic discharge properties or unknown origin.
In combination with the clear and comprehensible AXIS-CDA tuning logic, corrections are amazingly easy and secure.
PPS 5 components:
10 collecting trays
5 measuring cylinders
1 roller tape measure
clear, logical operating instructions.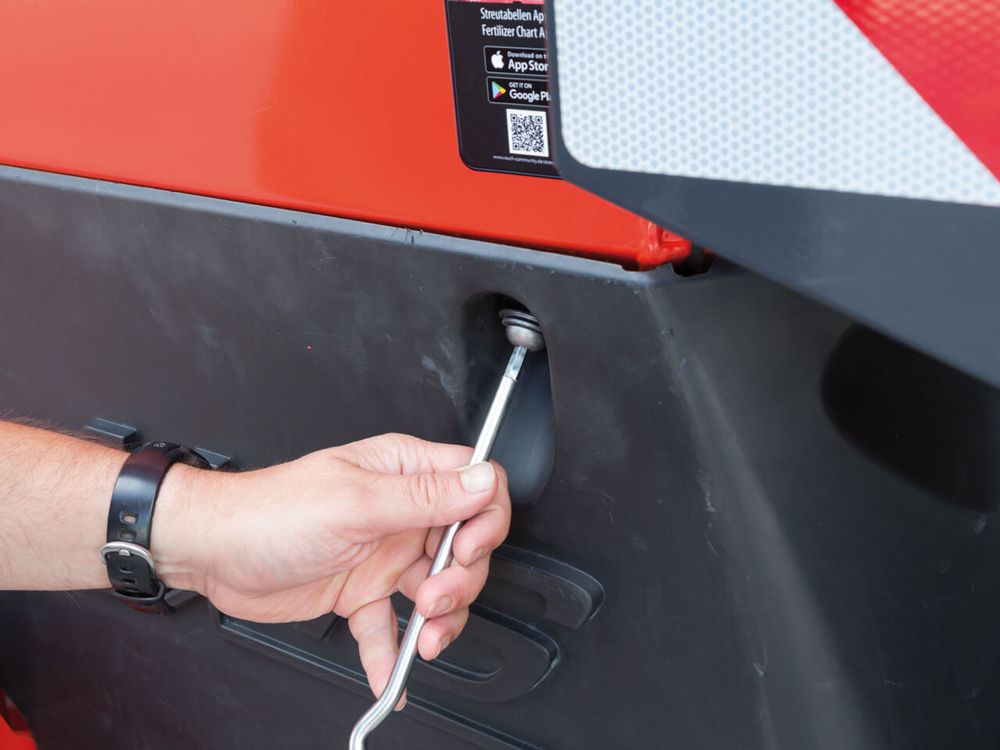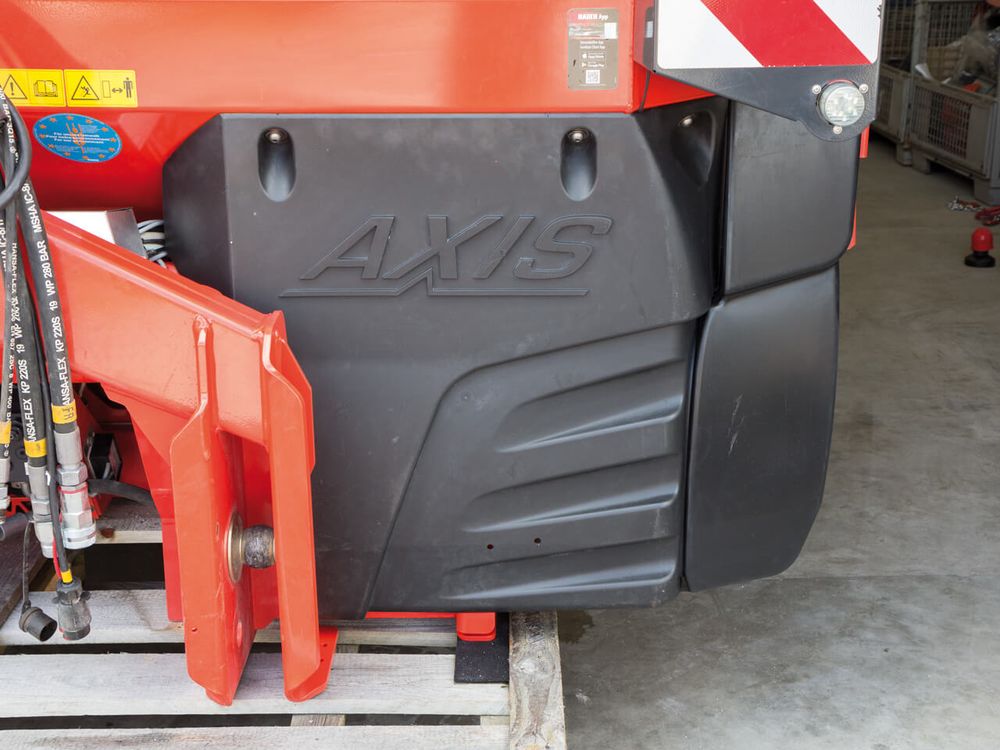 Dirt deflector with quick release fastener
A practical idea makes it all the way to series production. With the assembling tool located on the spreader, the three attachment points of the mud flaps can be released quickly and easily with a quarter turn. So cleaning the machine quickly and carefully is a snap.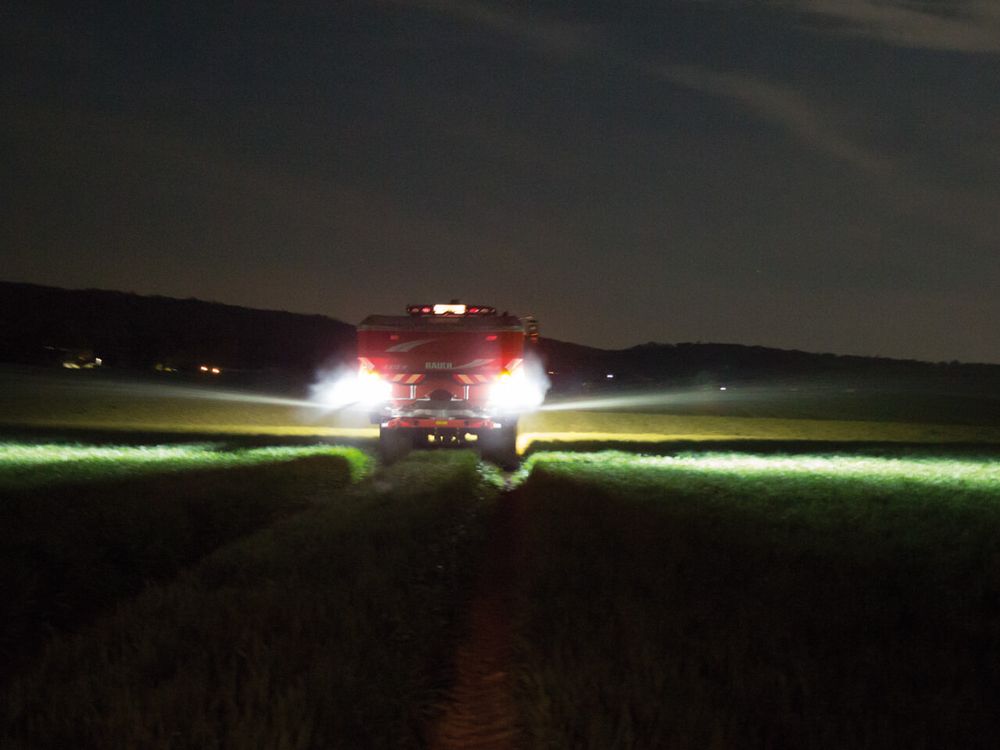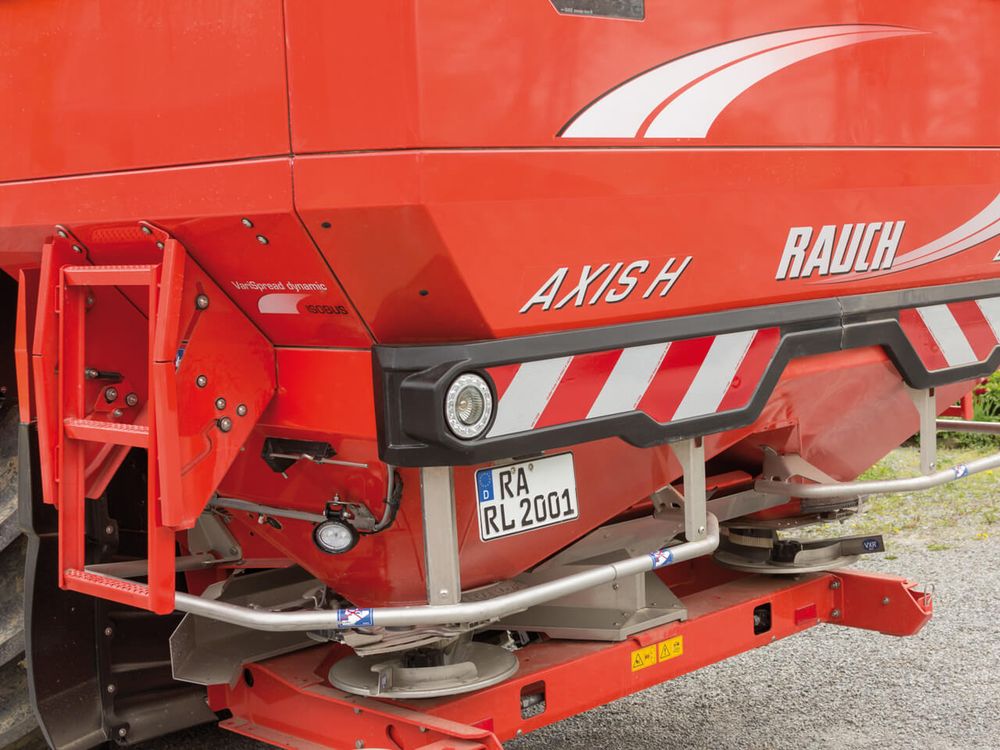 SpreadLight | AXIS
Modern GPS-controlled OptiPoint headland management systems and VariSpread section controls make precise fertiliser spreading possible - even at night. So far, however, it has been very difficult for the driver to visually check the individual spreader functions while spreading in the dark. In addition, obstacles in the spreading area pose a risk at night.
Thanks to the SpreadLight work lights, RAUCH has solved these problems. Modern, powerful LED work lights directly above the two spreader discs of the fertiliser spreader illuminate the spread fans on the left and right side.
The driver has the spread fan in full view thanks to SpreadLight. Possible incorrect settings or clogging at the dispensing gates are recognised immediately. Moreover, the operator can respond more quickly to difficult-to-detect obstacles or danger spots in the outer spreading area in the dark, especially when it comes to wide spreading widths.</p<p>Unlike the tractor's work lights, SpreadLight is specifically aimed at the spreading fan. The fertiliser granules thereby reflect the intensive LED light.
As simple as it is convenient, SpreadLight is remotely controlled by the ISOBUS terminal via a touchscreen. The operator can choose whether the headlamps are permanently lit or automatically switch off and on in the headland in order to avoid blinding oncoming traffic on the road. SpreadLight can be retrofitted as an option for all mechanical and hydraulically driven RAUCH AXIS.2 ISOBUS fertiliser spreaders.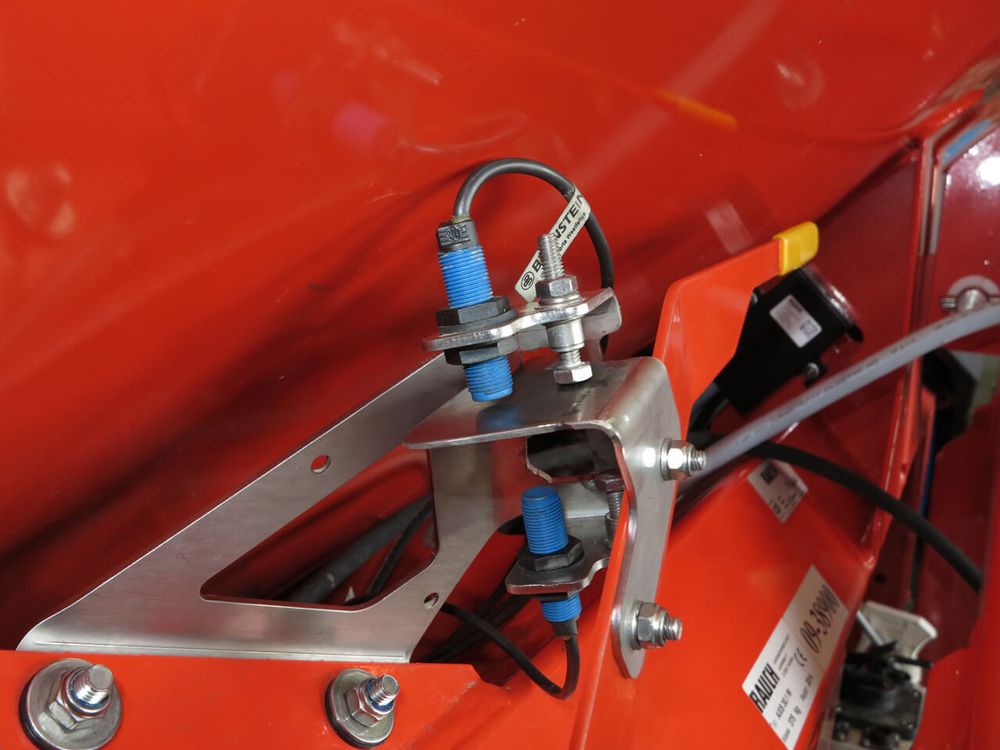 Telimat sensor
The optional AXIS Telimat sensor shows in the display of the QUANTRON-A or the ISOBUS terminal whether the Telimat thrower shield is in the ready position. It happens again and again that not only smartphone-happy farmers forget to raise the Telimat again after limited border spreading, thereby causing errors in the spreading results. Just one look at the display and you will be reminded of the Telimat's position.
6 year warranty against rusting
AXIS fertiliser spreaders are characterised by their high-quality, durable ProTect double powder coating. Perfect protection against mechanical stress, UV light, salts and acids guarantees the construction will last a long time. RAUCH now offers a 6 years warranty against rusting on all AXIS fertiliser spreaders manufactured after September 2017.


Simply activate the anti-rust warranty for your new AXIS spreader with the barcode on the warranty sticker. Benefit from the legendary RAUCH quality for many years to come.
Ejection discs

Everything revolves around precision.

Ejection discs
Working width
Beschreibung
S1

Working width:

12-18 m
S2

Working width:

12-18m
S4

Working width:

18-28 m
S6

Working width:

24-36 m
S8

Working width:

30-42 m

* Coated spreader vanes with VXR plus

Hopper extensions

The flexible attachment system enables optimum adjustment of the hopper volume.

| | | | | | | |
| --- | --- | --- | --- | --- | --- | --- |
| Hopper extension | L 603, 3-seitig | L 800 | L 1500 | XL 1300 | XL 1800 | XL 1103, 3-seitig |
| | | | | | | |
| Additional volume [ l ] | 600 | 800 | 1,500 | 1,300 | 1,800 | 1,100 |
| Total volume [ l ] | 2,000 | 2,200 | 2,900 | 2,700 | 3,200 | 2,500 |
| Additional filling height [ cm ] | 0 | 26 | 50 | 38 | 52 | 23 |
| Filling width [ cm ] | 230 | 230 | 230 | 270 | 270 | 270 |
| Additional weight [ kg ] | 30 | 45 | 75 | 65 | 75 | 60 |
Technical data and equipment
Model variant
AXIS M 30.2 K
AXIS M 30.2 D
AXIS M 30.2 R
AXIS M 30.2 C
AXIS M 30.2 Q
Basic machine
Working width [ m ]
12 – 42
12 – 42
12 – 42
12 – 42
12 – 42
Hopper volume [ l ]
1,400
1,400
1,400
1,400
1,400
Max. capacity [ kg ]
3,200
3,200
3,200
3,200
3,200
Container size [ cm ]
240 x 130
240 x 130
240 x 130
240 x 130
240 x 130
Filling height [ cm ]
107
107
107
107
107
Filling width [ cm ]
230
230
230
230
230
Empty weight [ kg ]
335
335
335
335
335
Tractor attachment
Three point category II/III
Three point category II/III
Three point category II/III
Three point category II/III
Three point category II/III
Drive
M drive: Universal drive shaft with ratchet safety clutch 540 rpm
M drive: Universal drive shaft with ratchet safety clutch 540 rpm
M drive: Universal drive shaft with ratchet safety clutch 540 rpm
M drive: Universal drive shaft with ratchet safety clutch 540 rpm
M drive: Universal drive shaft with ratchet safety clutch 540 rpm
Metering
Slide actuation/quantity regulation
Hydraulic metering slide
Hydraulic metering slide
Hydraulic metering slide
Electrical metering slide
Electronic metering slide without mass flow control
Servomotors
-
-
-
Slide actuation elec. Linear actuator
Slide actuation elec. HighSpeed servos
Variable Rate Control
No
No
No
No
Yes
Electronics
-
-
-
EN- Bedienung E-Click
QUANTRON-A spreading system
Section control
VariSpread V2 partial width controller
VariSpread V2 partial width controller
VariSpread V2 partial width controller
VariSpread V2 partial width controller
VariSpread V8 partial width controller
Limited border spreading
Limited border spreading with TELIMAT, Limited border spreading with GSE
Limited border spreading with TELIMAT, Limited border spreading with GSE
Limited border spreading with TELIMAT, Limited border spreading with GSE
Limited border spreading with TELIMAT, Limited border spreading with GSE
Limited border spreading with TELIMAT, Limited border spreading with GSE
Innovative Fertiliser spreader
– This might also be of interest to you