The vegetable specialist
Whether for viticulture, the cultivation of vegetables, fruits or special crops, in nursery gardens and gardening and landscaping, the UKS satisfies every possible requirement and offers simple, comfortable operation at maximum precision.

High precision that is suitable for all kinds of spreading material such as fertiliser, seeds, compost, organic fertiliser, sand and much more.
Model variants UKS 300 GB
| | |
| --- | --- |
| UKS 300 GB | manual gate control, hydraulic drive |
| UKS 300 GB Q | hydraulic drive, speed-dependent, electronic fertiliser metering, QUANTRON-A operating unit, cable length 5 m |
Accessories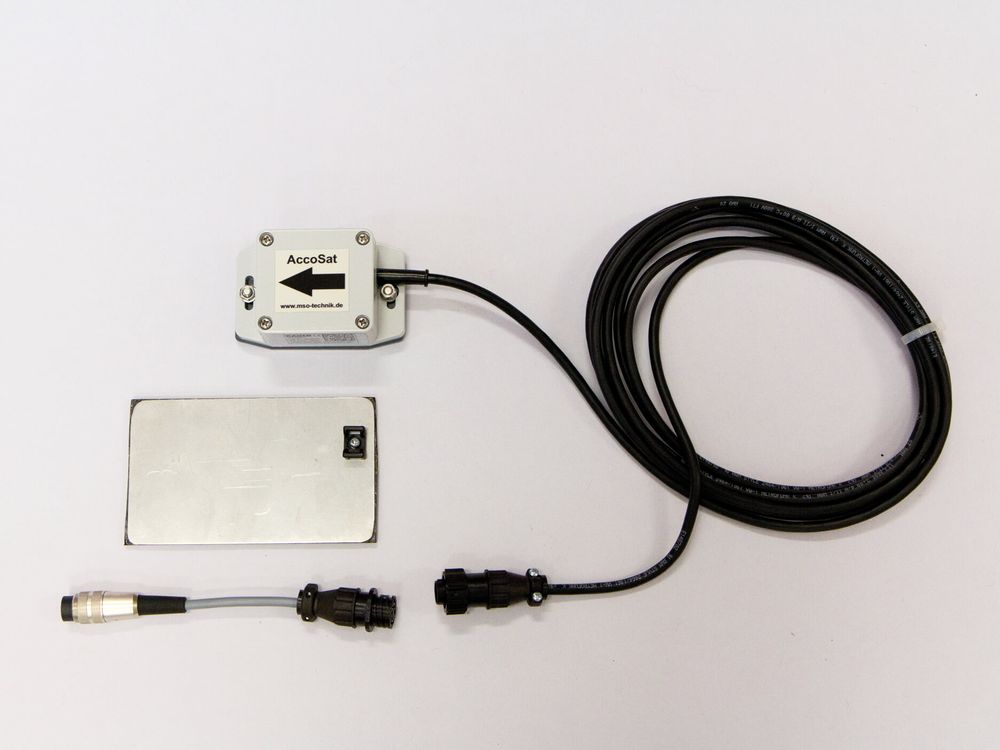 GPS speed sensor
In order to be able to regulate spreading according to the driving speed, the QUANTRON-A and QUANTRON-K2 scatter computers, and the ISOBUS display all require a speed signal. This usually comes via the 7-pin signal socket or the ISOBUS from the tractor unit. If the tractor itself is not equipped with this signal, either a wheel sensor must be retrofitted or you can use this GPS speed sensor.
A GPS signal in combination with an acceleration sensor generates a high-precision speed signal. This is especially recommended if the spreader is used in combination with several tractors or is also shared by different companies.
Another great advantage of this is that the slip of the tractor tyres in wet conditions or slopes does not matter and does not adversely affect the spreading result.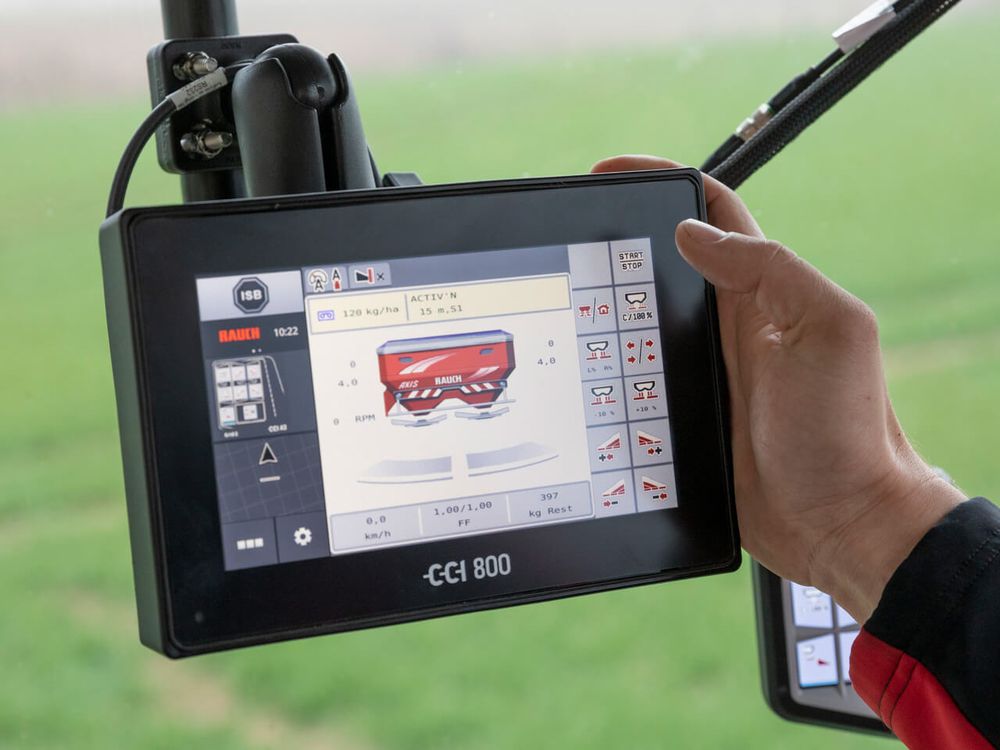 GPS control with CCI 800
In order to use the QUANTRON-A to automatically switch part-width sections and headlands via GPS or to scatter application maps, the QUANTRON-A is connected to the CCI.800 terminal via a serial interface.
In this case, the CCI.800 is not used as an ISOBUS terminal, but as a GPS terminal that, in combination with a GPS receiver, switches part-width sections via SectionControl or processes application maps via the TaskController.
Level sensor | UKS
An optimum overview of the remaining quantity can be displayed on the UKS via the level sensor. The sensors give off a warning in the display should the level get too low.
Hopper cover | UKS GB
The perfect protection against humidity and dirt from the tyres.
Row spreading device UKS
UKS is the ideal spreader for row crops. In conjunction with the optional row spreading devices, it is possible to spread precisely from 12 to 18 rows - Row spacing: 13 cm:
RV 150-13-12 (12 rows with 13 cm spacing) for UKS 150
RV 230-13-18 (18 rows with 13 cm spacing) for UKS 230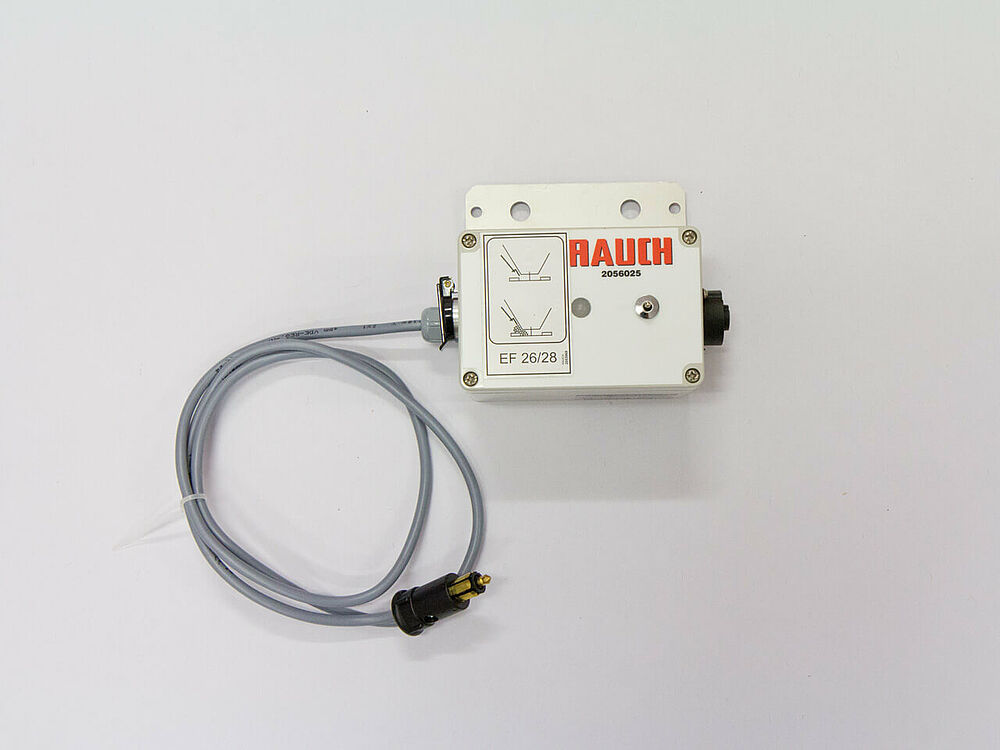 Electrical remote control
Electric remote control for joint adjustment of the spreading width limitation left and right.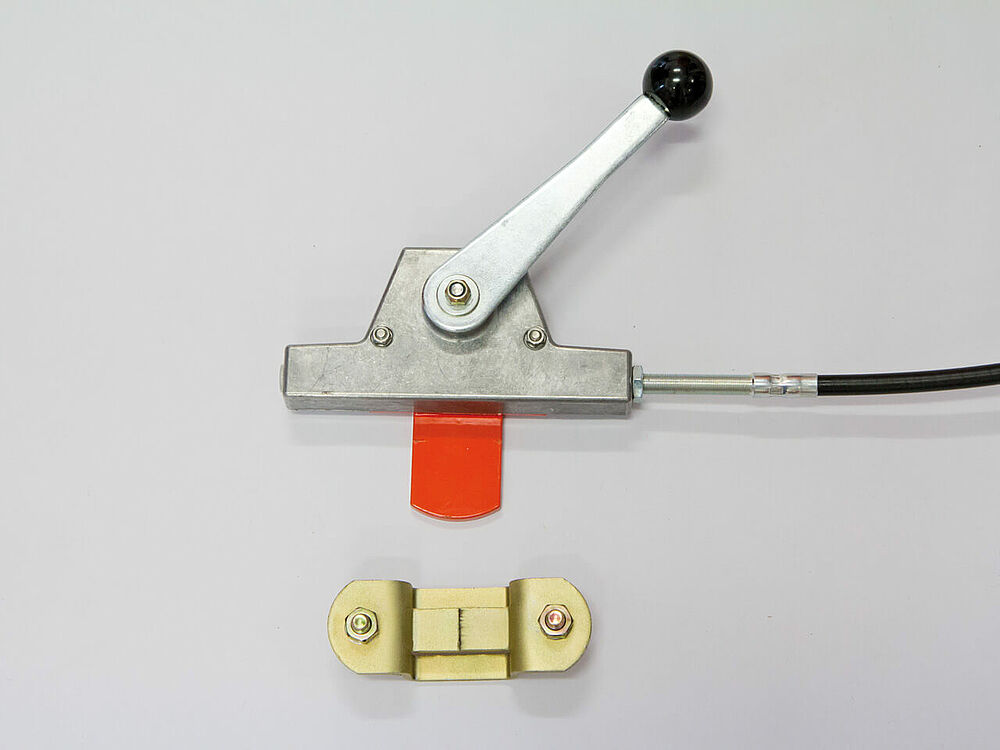 Mechanical remote control
Push-pull cable with adjustment lever and mounting parts
Technical data and equipment
Model variant
UKS 300 GB
UKS 300 GB Q
Basic machine
Working width [ m ]
3
3
Hopper volume [ l ]
580
580
Max. capacity [ kg ]
1,000
1,000
Container size [ cm ]
310 x 62
310 x 62
Filling height [ cm ]
60
60
Filling width [ cm ]
310
310
Empty weight [ kg ]
260
260
Tractor attachment
Three-point category II
Three-point category II
Metering
Slide actuation/quantity regulation
Mechanical metering slide
Electronic metering slide without mass flow control
Servomotors
-
Slide actuation elec. Linear actuator
Variable Rate Control
No
Yes
Electronics
-
QUANTRON-A spreading system
Limited border spreading
Limited border spreading with fixed working width
Limited border spreading with fixed working width
Wet lime + organic fertiliser
Yes
Yes
Innovative Fertiliser spreader
– This might also be of interest to you