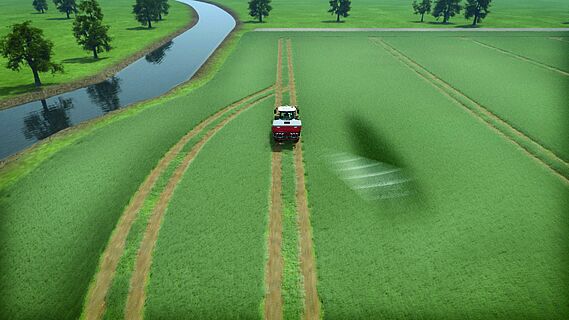 GapSpread: Section control to perfection
RAUCH has once again significantly improved the AXIS two-disc fertilizer spreaders for accurate precision farming for the current season. In addition to the continuous online adjustment of the working width and application rate at wedge-shaped field boundaries with VariSpread pro, RAUCH AXIS spreaders with GPS control now also recognize un-spread corridors between unevenly laid tracks, such as those at the field margin, when navigating around obstacles or in the case of asymmetrical tracks. Thanks to the intelligent interplay of drop points and metering quantity adjustment, AXIS fertilizer spreaders with GapSpread can fertilize narrowly delimited corridors, previously un-spread gaps, between two tracks with high precision. GapSpread has been available as standard for all RAUCH AXIS fertilizer spreaders with VariSpread pro since September 2019.
GapSpread increases efficiency in field corridors that were previously unattainable for common section control solutions. Together with the continuous boom section control VariSpread pro and the exact, automatic headland control OptiPoint, GapSpread makes a decisive contribution to greater fertilizer efficiency and environmental protection in cost-intensive and environmentally relevant plant nutrition.