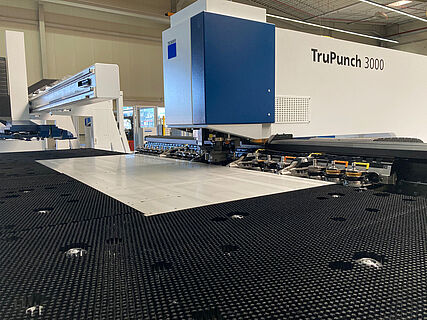 An investment in the future
Rauch is building on the milestone of Industry 4.0
RAUCH Landmaschinenfabrik GmbH is setting a course for success!

By investing in the TruPunch 3000 punching machine on a floor space of 120 square metres, RAUCH continues to expand its range of innovations and thus significantly increase production efficiency. The TruPunch 3000 is versatile and future-proof, which is shown by its integrated technology with a multitude of tools, but also by its precise processes and intelligent automation. With its investment volume of around EUR 750,000, the punching machine offers a solution package for growing quality requirements and ever-increasing customer demands. 1,600 strokes in 60 seconds and maximum processing of 600 kilos per hour enable a higher throughput and thus a higher machine availability. The simple adoption of the construction drawings guarantees a short set-up time, and the MultiTools offer an enormous simplification of work. Up to ten punches can be integrated, which have a tool change time of just 0.3 seconds. The skeleton-free processing saves material and also increases the security of the processes.
RAUCH Landmaschinenfabrik GmbH, an international manufacturer of fertilizer spreaders, sowing machines and winter spreaders, sets sustainability standards with the TruPunch 3000 punching machine, which the production team affectionately calls S.A.M. (special automated machine), and underlines what it stands for: quality, reliability and the long lifespan of RAUCH products.