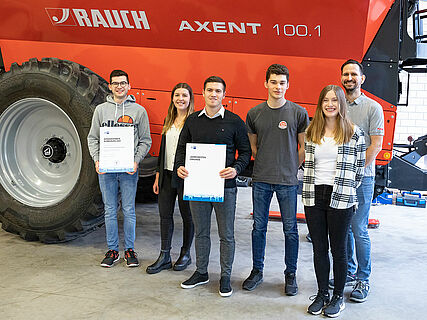 RAUCH's apprentices are once again among the best of the year
Two graduates from RAUCH Landmaschinenfabrik GmbH can call themselves "IHK Best of the Year 2021" in the district of the Karlsruhe Chamber of Industry and Commerce (IHK). RAUCH is regularly awarded as the best training company in the whole of Germany. With this seal, the family-owned company lays the foundation for well-trained experts.
An apprenticeship at RAUCH Landmaschinenfabrik GmbH means being allowed to work for an international manufacturer of fertiliser spreaders, seed drills and winter spreaders. With innovative products, RAUCH sets standards in agricultural technology and is considered the benchmark in the segment of metering and spreading granules. Employees are the most important resource for the success of a company. Precisely for this reason, a great focus is placed to the qualified training of junior staff.
In the summer and winter examinations 2020/2021, a total of 203 apprentices passed their final examinations with the final grade "very good" and are thus among the IHK year's best 2021 in the district of the IHK Karlsruhe.
Steven Huber and Enrico Reith from RAUCH Landmaschinenfabrik GmbH are among the best of the year. But RAUCH's apprentices also received awards in the final examinations at the Bühl Trade School, which took place in January 2022. For a grade point average of 1.5 or better, eight apprentices were awarded prizes. Among them was Dominik Jägel, who trained as an industrial mechanic. Examinations with a commendation were taken by a total of 14 apprentices, including tool mechanic Lena Otterbach.
The family-owned company congratulates its graduates on these outstanding achievements and is proud of such a dedicated training team.
Picture caption: from left Enrico Reith, Julia Deibel (commercial training manager), Steven Huber, Dominik Jägel, Lena Otterbach and Denis Schlömp (industrial training manager)