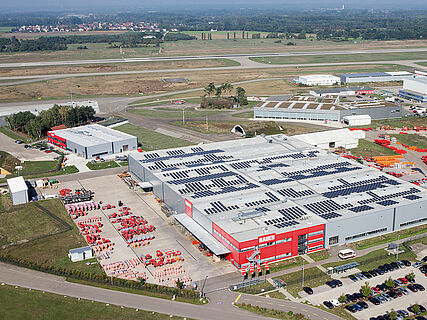 RAUCH achieves record sales in its anniversary year
RAUCH Landmaschinenfabrik GmbH can look back on a successful business year 2021/2022 despite immense challenges in the supply chains. With record sales of 104 million euros, the family-owned company producing at Baden Airpark was able to give itself the best present for its 100th anniversary.
"The challenges were enormous in terms of supply bottlenecks and the Corona measures. The war of aggression launched by Russia also presented us with new tasks that we had not faced to this extent in the past," explained Wilfried Müller, the managing director responsible for the market. "Nevertheless, we were able to further consolidate our market position in exports as well." Such an increase in turnover and sales is based on an extraordinary proximity to customers and a steadily increasing trust in RAUCH products and their innovative progress in agricultural technology.
"Thanks to a great team performance and the high level of commitment and flexibility of our employees, it was possible to operate successfully in this difficult environment and to further increase sales," managing partner Hermann Rauch had told us. "On the occasion of the 100th anniversary, we also celebrated this together and extensively," he said. In the last business year, Rauch Landmaschinenfabrik GmbH employed 380 people and a further 25 people are currently undergoing training.
The campaign year of RAUCH Landmaschinenfabrik GmbH was marked by the 100 year history of the company. Interesting personalities of agricultural technology, but also important business partners were able to celebrate this in a fitting manner. On a national and also international level, the down-to-earth and innovative family business presented its philosophy and values. As in the past, sustainable production and high quality awareness will continue to be an important basis for precise and efficient crop nutrition in the future. Despite further uncertainties in the market, in the supply chains and increasingly also in the energy supply, RAUCH wants to continue to grow and expand its global presence. "RAUCH machines stand for environmentally friendly and resource-saving technologies and thus for exact placement with cost-reduced use of the spreading material" explained Volker Stöcklin, Managing Director Technology.
RAUCH wants to continue its growth course and is investing in state-of-the-art machinery and process optimization as well as in a new administration building at the Rheinmünster site. "We are looking forward to the time when all employees are united at one location again," Martin Rauch, Managing Director Production and IT, told us. "The challenges will not become less in the future, but we see more than ever that the agricultural sector is indispensable for a functioning society."