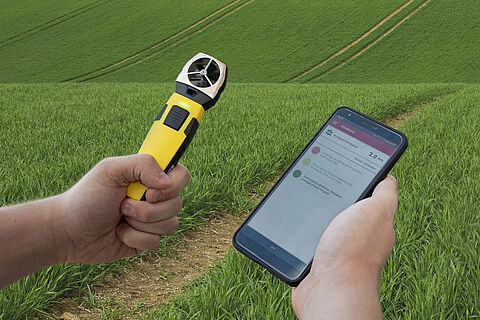 App-feature increases the effectiveness of the fertiliser spreader
Ingenious app-feature WindMeter from RAUCH increases the effectiveness of the fertiliser spreader
Even today's generation of farmers still have to contend with wind speed and direction, just as they did 1,000 years ago, in order to ensure optimum application of seed and fertilizer. But up to what wind speed can the fine and coarse granulate be spread as precisely as possible? The new "WindMeter" app feature in connection with an impeller anemometer from RAUCH Landmaschinenfabrik GmbH offers assistance here.

The RAUCH Electronics Development and the App Developer of neusta mobile solutions GmbH developed the support tool for agriculture based on the idea of RAUCH Landmaschinenfabrik GmbH. The new "WindMeter" feature provides the farmer with a unique and powerful measuring option, which is essential for efficient application.

In order to meet the exact requirements of these customer, a precisely tailored solution had to be produced in close cooperation with the software developers of the device manufacturer of the impeller anemometer.

The "WindMeter" is very easy to operate. You only need to connect the "Fertilizer Chart" app of RAUCH Landmaschinenfabrik GmbH, which provides optimum settings for the RAUCH machine with the respective seed or fertilizer, to the impeller anemometer via Bluetooth. A traffic light system on the display indicates the flow velocity parameters determined by the anemometer and transmitted to the app. This shows the farmer whether the spreading material should be spread at the wind speed measured on site. The decisive factor here is the wind speed transverse to the direction of travel, since the cross wind is the greatest danger for potentially blowing the fertilizer.

The RAUCH Landmaschinenfabrik GmbH is continuously working on innovations and developments in order to guarantee customers an efficient and quality solution at work and in their bottom line.

The RAUCH app is available free of charge at Google Play (Android) and in the Apple App store (iOS).